Shipyard ~ Our Services
Clean Yachts provides cleaning services for yachts on construction shipyards. The activity is distinguished between specific services for newly built yachts and services for boats in the refit phase.
The Clean Yachts team provides a professional service in full compliance with the regulations in terms of safety in the workplace, environmental sustainability and the shipyard rules.
The services provided by Clean Yachts guarantee excellent results.
Shipyard ~ New Yachts Construction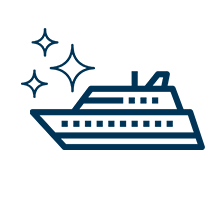 Clean Yachts provides shipyards specific services for new yacht building.
We take care of the preparation for the sale through complete after-building cleaning: from the removal of residues to the detailing of all the parts.
We also provide cleaning services for new superyacht building, ensuring excellent quality standards for potential customers during exclusive events of the shipyard and at yacht shows.
Shipyard ~ Refitting


Clean Yachts provides eterior and interior cleaning services for yachts during refit.
We work in synergy with the shipyard and we provide our services, with specific and personalized operations that guarantee compliance with the high quality standards required by the yachting industry.